About
Hello Wall Decal Lovers!
We absolutely love what we do! We genuinely enjoy creating designs and artwork and then seeing the excitement of our customers when you get to apply that creativity in your home. If you could only see our reaction here in the Studio when we receive an email from you showing us your newly applied wall decal... That really is what gives us a great sense of satisfaction.
The Owners:
The idea and vision of Accent Studios was first contrived by Steven Bennett. "My whole motivation is to make things better than they currently are. Whether it's wall decals.. or, whatever, I just want to improve things." Steven believed he could create a means that would allow people to easily express themselves and bring out their own personality while at the same time, decorate their homes.

Steven possesses the entreprenurial spirit. With a strong aptitude for technology and being well rounded in digital design, his innovation propels the company into opportunities never thought possible in so short a time. He is a self-taught computer mastermind; He is Microsoft Certified, but most importantly, he has the ability to see ahead of the curve.
After months of planning, and preparing, and researching, only to realize how many obstacles must be hurdled before starting a business in California, he sought for more talent to help him in creating his new found dream.

As he brought on his longtime friend, Garrett Cluff, Steven knew Garrett's skill-set would be a great fit for what the company needed to hit the ground running. He immediately jumped on board and has since been helping move the company forward and upward. "[Wall art] is a great way to add your own personal touch, to anything." "Everyone likes to express themselves, and I see vinyl wall decals as the next popular wave in being able to do so easily, and affordably."

Garrett has a 10-yr background in customer service, and is certified in the Seven Habits course by Steven Covey. He pays close attention to the details, develops strategic marketing plans, and approves final product designs.

In combining their talents together, their skills include years of digital/graphic design, computer/equipment repair, networking, PR/marketing, managing/administration, and fantastic people skills and customer relationships.
Sure, they like to run a sucessful company, but their bottom line is... "A sucessful company is built on happy customers." You can count on Accent Studios to continue to provide exceptional services. "Making a great product is important to us, but even more important to us is making sure our clients are satisfied with their wall decals."
The Company: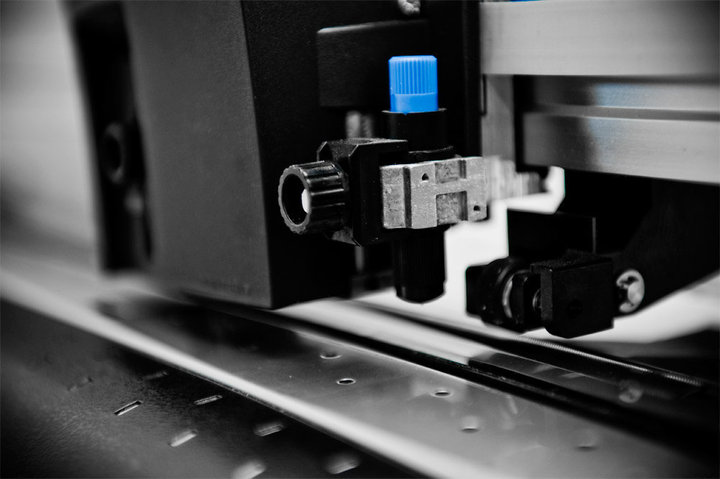 Accent Studios - Vinyl Wall Decals is located in the Central Valley, CA and provides its products both across the country and internationally, and has grown to become a favorite, by it's customers, in the vinyl wall decal industry.
Accent Studios specializes in high quality vinyl, which we turn into amazing wall decals. Vinyl wall decals are an in-expensive way to add great non-permanent designs to your wall space. They are ideal for rentals (residential and commercial), or apartments and dorms; Virtually any wall or surface that you want to bring to life.
We offer a wide range of ideas for accenting your home and office walls. Our wall stickers and decals are simply the best you will find anywhere. Only the highest quality vinyl is used for our wall decals.
Our vinyl wall decals are made with a specially designed adhesive that won't harm your walls. This makes them easy to apply, to clean, and to remove. Our website features hundreds of different designs, and 45 colors to choose from. With so many choices, there is something for everyone. If by chance you can't find something that catches your eye, we have an amazing team of designers ready to create just about anything you can think of. Really, the ceiling's the limit!
Because all wall decals are not created equal, it's very important that you know what separates our wall decals from the 'other guys'.

1. Quality. We use only the highest quality vinyl. You won't find any "Made in China" vinyl at Accent Studios. Our vinyl has been tested and tried. Accent Studios wall decals and wall stickers are made with a flat matte finish vinyl so it looks like paint. The vinyl is coated with a self adhesive backing so don't have to apply your own glue or spray-on adhesive. The adhesive is made to be non-permanent, so it sticks until you are ready to take them down. When removed they won't harm your walls or leave any sticky residue behind.

2. Designs. Accent Studios has a very high standard for the products and designs we create. Before a design is accepted as a product, it is reviewed and scrutinized to make sure that it possesses the quality required to be labeled an Accent Studios product. We make sure that every wall decal has the right shape and smoothness so that when on the wall it, looks exactly as you imagined it. We do not cut corners or take shortcuts like others.

3. Service. Our excellent support staff is always ready to assist you. We know sometimes putting up wall decals or wall stickers can seem a little tricky. That's why we have created a very detailed and thorough FAQ page and HOW-TO page with written and video help.

At Accent Studios it's important to us that you are satisfied with your product and our service.